HR Support for Small Businesses – Grow your business through your people
So, you're thinking about expanding your team, huh? Well, before you rush to hire a full-time employee, let's talk about why that might not always be the best move. We're diving into the world of employment options, so buckle up and get ready to explore why you don't...
1 Million Steps Challenge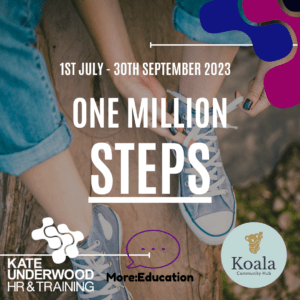 Solutions to help your business scale
FREE HR Health Check
As employment law is always changing, it might be a good idea for your business to undergo an HR Health Check. As a small business owner, you probably don't have time to give your business a Human Resources M.O.T. until something goes wrong.
Why not let us give you a FREE MOT
Our pricing
plans
To keep things simple, we base our prices on the overall size of your business – not per person. HR support from as little as a price of a coffee a day ……
Don't just take our word for it!
Our clients have said:
"I was introduced to the World of HR Systems by Kate and having the team set up on a system makes funning a business sooooo much easier when it comes to managing staff. What Kate doesn't know about HR Tech is probably not worth knowing"
"Kate in an innovative consultant who is very capable in helping organisations design and implement an effective HR strategy"
"Kate Underwood HR ahs proved to be the perfect HR Partner for our rapidly growing HR Business. Whether its been helping to initally stablish our HR processes or policies, selecting and confidering our online tools or providing on going HR advice and Support"
"Kate is passionate, conscientious, informed, proactive and responsive. She has a wealth of expereince she is happy to share and a great understaning of HR which she imparts in an easy to follow way which makes it seem so much easier to manage a small business."
Our HR
blog
Don't miss out on the latest human resources news.
So, you're thinking about expanding your team, huh? Well, before you rush to hire a full-time...
Let's Start Something new. Say Hello!